Part 2 ::: kay... where wuz i ? east coast... tt cab
wuz takin' me rounds till the fare got higher... so,
i told him juz stop there and i'll find the place..=)
well, its quite dark that tiMe... had 2 lo0k fr Pit 14

went left and right... finally found the BBQ pit...
gLadly- mEt Jocelyn and Minru + Wan Ying...xD
they were startin to BBQ aldy... & they look tired
not to mention - wEt! hahah...saw jun boon to0
and ltr on valene + j0rdin who came aftr me...
nothing much la... juz chatted with them although
i dun a num of them coz mostly are all frm
PCSS softball team... oNe guy even asked me in
chinese whether i'm an "ex-peicaian"... then wan
ying say - ya!..considered so? coz i wuz there fr a
week last year...xD & he said he has seen me be4

w0w- ppl actually remembr...well i do to0...more 2
recognizing faces but not names... well, chatted
wif valene by the beach... talk normal stuff la..sch
and all the happenings going on...ltr on, chat wif
j0rdin...also by the beach... quite a nicE place to
talk and all...kinda my first time hearin' jordin talk
coz when i wuz there..he's like a very quiet person
then waN ying say whether we having - guy talk ?
not really lah!! its open topic..as in say what u like

neXt wuz- play truth and dare game...hahahah!!!!
the exciting one... didnt play coz better they play
among themselves coz i'm nt quite close - so, one
of it was this gaL... kissing a guy - think his name
iz clarence... on da cheek..w0w!! thats something...
next highlight wuz- this gaL i noE [dun wanna name]
wuz dared to touch another gal frM head to toE...
in front... i wuz- oMg oMG !!! and she really did it..
swtz... then j0rdin's turn & had to speak the truth
wan ying asked 'bout his relationship with some
gal...think itz rachel ? and what stage are they iN..
and he started blushing... fuNNy!...
this type of thing iz really fun...get to interact in
the same time... in malaysia wont hav such a thing
going-on every now and then... the last time.. had
this kind of activity was during YiNky's party...
sad eh... well, cant help it... my sch iz destined to
be a not-so-interesting type...sometimes : boriNg!

well, earlier on wuz birthday cake cutting session..
all of us sang birthday song fr jocelyn =D...
then she blew the melted candles...as in finish
melt till gone...ed...so, started posing fr piCS ::



birthday girL - centre with Minru...xD me at the top
but not everyones' here...though..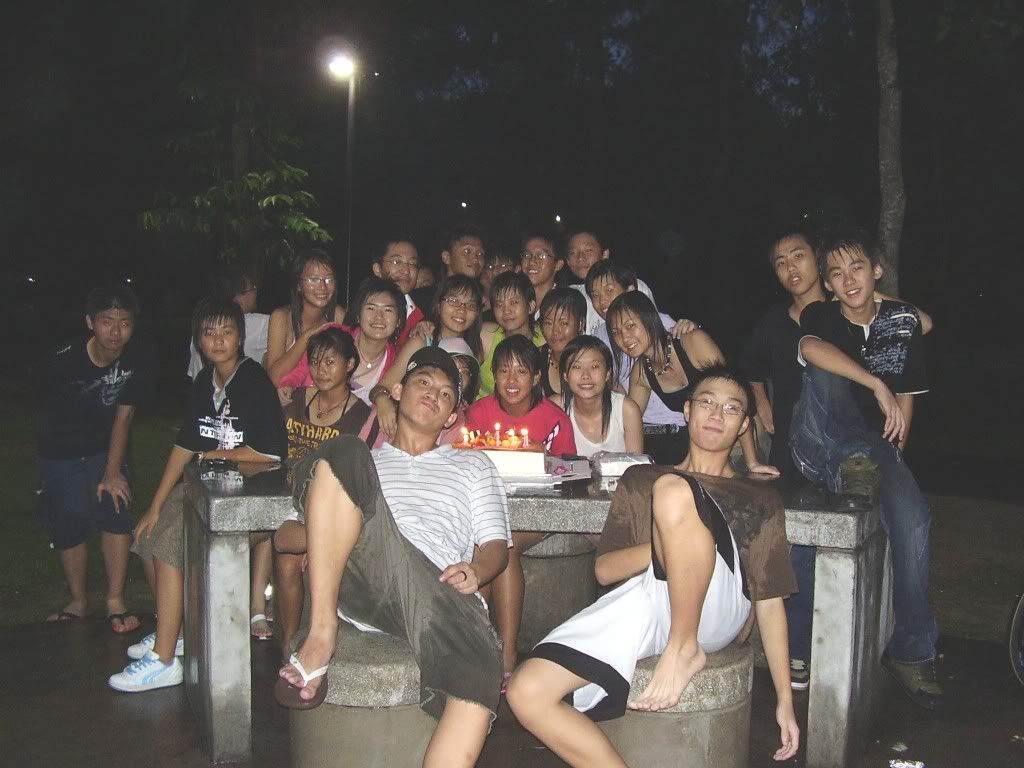 kay this piC iz the full piC with everyone inside ?
guess so... had to crop this piC coz it wuz too big...
now it doesnt really look nice... hope u ppl can c the
piC..so, after that wuz juz hang around till it wuz time
to go back... so early went back - around 9+ wanted
to stay but better not - aftr i dunno the way back...

=)