77. WeekeNd updatEs....


late posting about my weekend... this time it wasn't short or it was
long, juz a moderate weekend... Saturday iz always the day i hav
least activities [if nothing comes up] - whereby i will be doing nothing
sometimes but this time i wanted to finish every crap h/w i've got...

so, back after lunch and started doing all the h/w whether it has been
on hold [since god-knows-when] mostly E & A Math...there are like tons
of them..and other subjs... yes..i'm somewhat a naughty boy not doing
the given h/w...or putting it on hold... =]
was hoping that doing all those could at least take the whole afternoon
but no! it took me two hours only then i had nothing to do... so, went
revising crappy chemistry and psycho physics...since we started on new
topics that needs "real understanding"... biology can read any other day

my computer problem iz about to be solved... gonna get a new one...
juz when i told my parents that this comp iz having a problem... they
said get a new one then... mayb gonna get a Dell computer...
go0d.! well, i too expect that the hours i can go online will b reduced
by the time August comes... since prelims are veryyy near... thus blog
post mayb subsequently be reduced...

for dinner, dad took us out to 1 Utama...had no idea where he was
going till we ended up at Oriental Cravings... i finally got to know this
secluded place... next to TV Cafe or something...



that's da place... still iz crowded with people... and wuz kinda busy..
but they serve food quite fast...well, ordered dishes with rice...and
tried the sea coconut with longan... not baD la...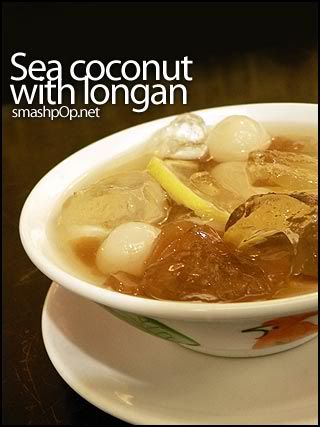 photo's :: froM smashpOp...[ahaha! pOp: in any case u see da piCs..
yes, its youRs... i pinjam to display oni =]
again coz i forgot to bring camera...=.= thinking was an ordinary dinner
or something but came herE..without the cam...i hav a camera phone
but i dislike using it coz of its quality and using a digital cam iz better...

later, went walking around... lo0k, seE & buy... juz for leisure...walk
and see whats new there...did i mention got l0ts of people...weekend
iz always filled with humans over there... before 11 p.m - went back
and a heavy traffic outside.. used to experience traffic congestion aldy...
nothing new here...

hmm.. today a Star reporter called me [a collegue of another reporter
who noEs mE] and asked what's my opinion on teenagers involved in
pornography... as in viewing kind of thing..was shocked actually...
of all topiCs... =P well, all Q&A and then she ask whether i've got
other frens that she cud ask.. so, gave her their num...
[particularly boys...hmm - are guys prone to this kind of thing? heheh!]

wait for updates on MYSO JamFest and a lil' review on Pirates of the
Carribean : Dead Man's Chest...+ the experience in a new cinema...


lateR...