78. MYSO JamFest & Pirates of the Carribean 2


yEs~ Delia... updatE heRe
supeR-duper late updatE... but...shud be posting it anyway =]
last Sunday - went to the new place - Cineleisure Damansara for da
movie :: Pirates of the Carribean - Dead Man's Chest


[did anyone notice? Malay subtitles for Dead Man's Chest iz
Kotak Lelaki Mati] -- are those translators ignorant or they are juz
translating the phrase to the exact?? word for word...?
the movie starts at 1 p.m... so went for lunch first at KimGary Rest.
at the Curve juz across Cineleisure... it was rather crowded that day
which was very expected... every weekend got some flea market at
the Curve along the street...attracts a huge crowd there...
and there was a event going on to0... MYSO JamFest... stands for
Max Your Senses Out Jam Fest... i think it is to attract the crowd to
the new complex... it has no shops except the Nike Flagship store...
got games & others la... freebies too...
neway, it wuz close to 1 o'clock - went straight to the cinema...got
pOpcorn and a drink...the seating wasnt very close to the screen la
since i booked and chose the seats beforehand...

didnt really like the cinema coz it wasnt cool enough and kinda warm
poor air-conditioning system... GSC iz much cooler...
next, i didnt like the seats coz itz connected...whenever someone
jumps on the chair then the other seats will feel the trembling vibe
kinda disturbing...and unfortunately, there's a kid over the other end
getting overly excited during the movie...therefore they juMp...
in GSC - it doesnt happen... so, GSC iz preferred... =]
i did notice the movie was quite long though... more than 2 hrs...

moviE really roxX~!!! as its real funny whenever Captain Jack Sparrow
comes up with funny scenes... esp. when he's tied to a stick with
fruits and roasted by the cannibals... while Will Turner isn't really
very interesting coz most of the time - he's trying to act cool like that
storyline quite ok... but leaves audience with questions...when Jack iz
iz swallowed by that huge octopus... others :: Davy Jones iz creepy...
waiting for Part 3 next year... =)


yeaH... this was the 3vent that was going on at the mall and games
involved...at the mall... like the bull ride...sumo fighting...basketball
& games as well...and they even hav inflatable challenge games...
i went for the bull ride...trust me...its quite fun but after that its not
a really nice ride to go for... its like swinging u around hysterically &
i'm not surprised if it can pull ur hand out of yr scapula & left hanging
took a piC but it wasnt really nice...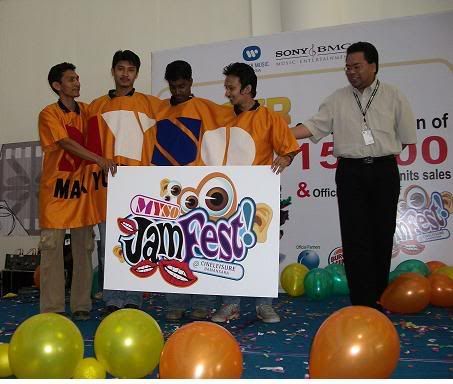 some prize awarding thing... but dunnO for waD.... that time to0..
saw the Xfresh Xplorer bus there but didnt stay to watch the
performance on its rooftop... hell... the bus lo0ks very cool...got
TV and nice seats... but didnt hope to see pOp there coz he went
to PD aldy... even if he's there... he wouldnt noe i was there...lol
so, went back home aftr that...nearly 5 p.m aldy

go0d news/bAd neWs.? i juz checked whether i'M anyhow selected
for National Service next year... it seeMs NOT~!!
well, been trying and always come out = operation timed-out
but in the end... No. KP tidak dijumpai... shud i be happy oR not??
well, now i can plann things rite for next yr...to consider fr January
intake or go work temp. or whatsoever...[stil plannin though]
pros = i dun hav to spend 3 months in army camp detention...=]
but seriously = i dun mind going!!!!...


blogg ltR...