79. Student Exchange Programme...


soRRy ppl fer the late updatE... been real busy for the past week
despite the fact that I've been lazing around sometimes...
yes, yes...been cutting short time used to online...sleeping EARLY
=O - unimaginable... and other stuff....
visitors that come by and sees that there's no post... saD eh???
top visitor was frm Delia [icy-ashford.blogspot.com] and 2nd was
from smashpOp [popblog.diaryland.com/smashpop.net]

tried posting but blogger.com & friends have some problem with
mE...tried posting Sat nite = can't // then Sunday afternoon = cant
finally now... been to the Curve very frequent though and Ikano as
well...i like that place... Sat nitE went to Sakae Sushi & Sunday
went to YIngker [both are restaurants] didnt go to 1U much aldy
since the traffic there iz supEr congested...

to Delia :: the bars of music can b copied by clicking the play button
at the website itself..there will b a code below it [on yr right of d pg]

to koyuuken :: i didnt FFK the meet la... I didnt agree to go anyway
juz surveying around whose going... well, its best that i dont go
anyway... remembr the emo-in-the-corner thing ??? exactLy~!
& 'bout my piC - refer to comments - post 78

============================================

intRo :: Last year befoRe i started this blog... I was involved with a
Exchange Programme to Singapore... organized by Peicai Secondary
School... for a week stint...which i went along with the 4 other ppl
purpose = to experience what itz like to be in a school of another
country...[trust mE... its the BEST experience anyone could get]

so, my role iz to liaise with the teacher in SG...and to arrange stuff
and make sure itz goes well...choosing the ppl to go was one of the
troublesome part...[some to even persuade] Hui Ting wuz the best
coz anything was a OK for her [sort of] while Meng Yean hav to
always ask her parents...Sath - was the persuading part & she didnt
enjoy it either | Ze Wei - the not interested one but somehow went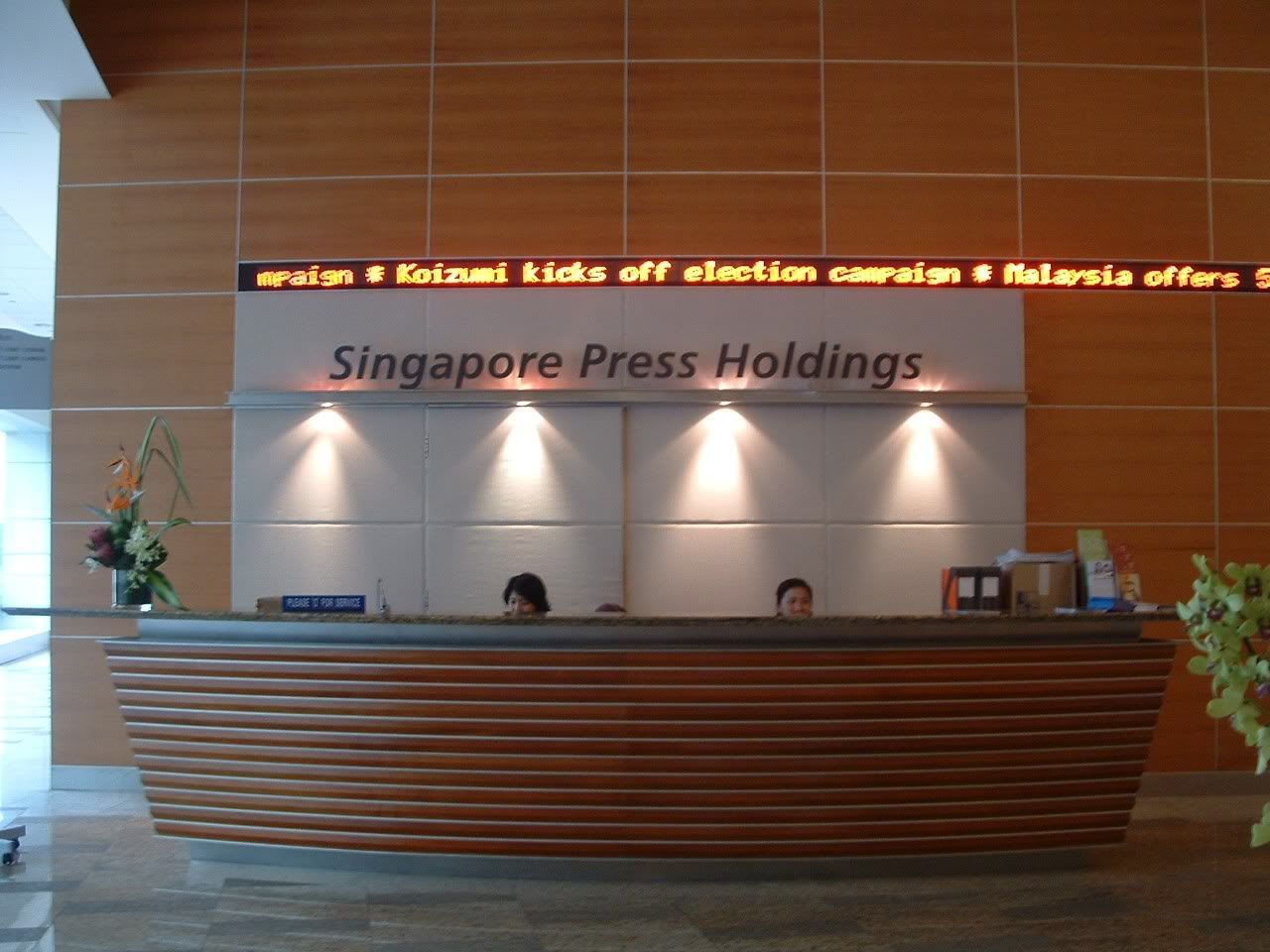 this was at the Singapore Press Holdings HQ at Toa Payoh...with
some students form Peicai...that guy on da right iz from SPH
[a metrosexual - thats wad Hui Ting said] while the guy on the
left iz Mr. Tan [teacher]...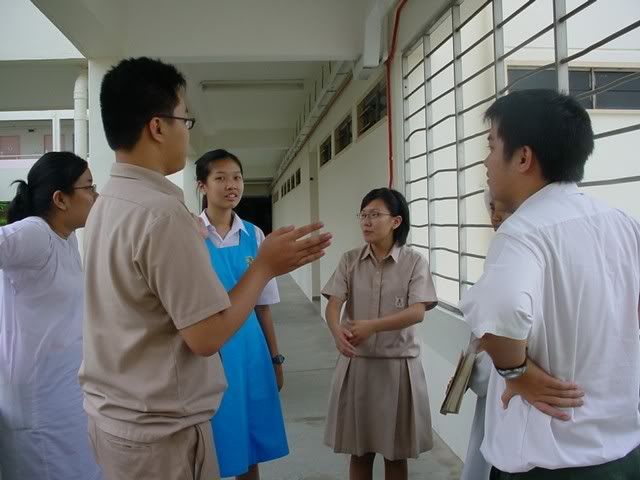 that was during the tour round the HUGE school block & the ones
taking us were Jia Kang [guy] and the pretty gal, Minru/Lulu...
their compound iz big and they say itz like the smallest school in
SG... compared to my sch - itz tiny... lol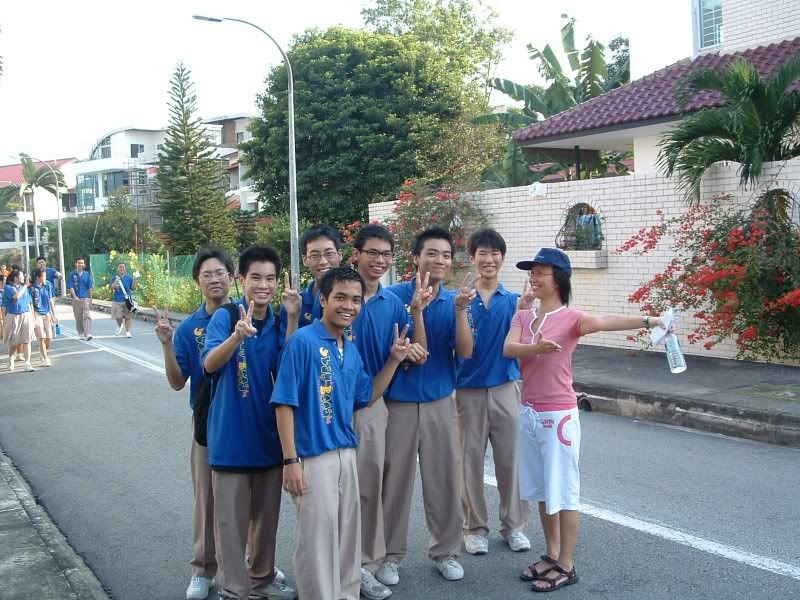 Ms. Kang there... [piC not taken by mE]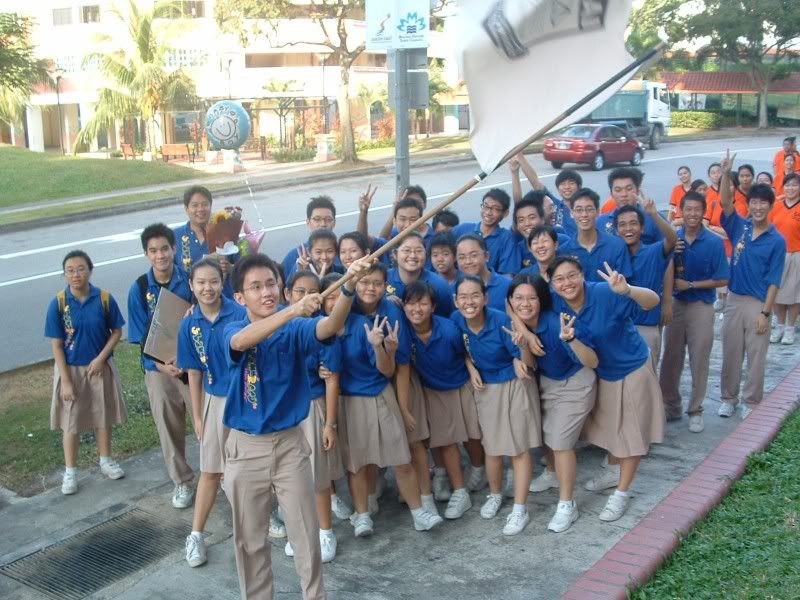 this iz 5Baybees...a.k.a 5B..Mr. Tan's class...and also the editor's
of Peicai's Catalyst Newspaper - Daniel Low.. this was taken when
the walk was held in conjunction of Teacher's Day?? which walked
around Serangoon and back to the school...and the not-so-funny guy
Marcus Tan wuz there too... [Del = correct me if i'M wrong..]

enough piCs ???
neway, ltR update again... got summore piCs...
got time visit links on my page that hav the "[sG]" thing - means
that they're bloggers from over the causeway that i met

ltR ppL...